One on One
Photography
Tuition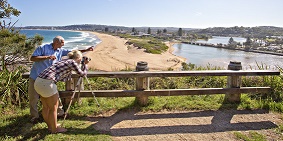 Understanding your Digital Camera

Understanding Photoshop

Low light and Night Photography

Sunrise and Sunset Photography

Group Tuition

Advanced Photography Techniques
Learn the processes that will change the way you approach your photography, and start getting better results right away!

The courses on offer are very informal, casual days, but packed with essential information. I only teach one-on-one, unless you would like to learn with a friend or partner.

This ensures you get the highest level of attention from me, and you are not lost in a group class.
Beautiful landscapes and seascapes of Sydney's Northern Beaches, Pittwater, the Blue Mountains, Coastal NSW, and much more.
These can be purchased as framed prints, canvas prints or acrylics, up to 3 metres wide!

| | |
| --- | --- |
| Browse through the portfolios of work on display in the web-site, and select your preferred images. Decide on whether you require canvas, acrylic or framed. Consider the appropriate size for the wallspace. Then order your print. | |
GIFT VOUCHERS
This is the easiest way to buy! A Gift Voucher can be fully personalised and can be made out for a specific gift or for a monetary value.
ONE ON ONE PHOTOGRAPHY TUITION
Everyone is catered for in the range of Courses available to help you learn to master the wonderful art of photography.
If you are just starting out with a small compact camera, you will enjoy the half day course aimed at covering the basics for the beginner.

If you have been enjoying using your camera for a while but are still shooting in Automatic mode, then the full day course is for you. You will learn everything about your camera, and how easy it is to use your camera correctly. Your pictures will improve dramatically!

And for those who are proficient in the basic understanding of their camera, but wish to go further, then the Advanced day is for you. This is a full and busy day where we concentrate on mastering the fine detail of photography, whereby you gain a deeper understanding of the principles of photography.

And finally there is the specialty course of Understanding Low Light Photography. Held down on the harbour foreshore of Kirribilli at sunset, this is a 3 hour session dedicated to mastering the art of capturing beautiful images in low light.
Any of the above Courses can be booked and purchased from the stall, or given as a Gift Voucher.

FRAMED PICTURES, CANVAS PRINTS, ACRYLIC PRINTS
There are hundreds of images on display. All of our beautiful Northern Beaches coastline is available, and of course a huge selection from the very popular portfolio of Pittwater images. Every image is available to be purchased in a variety of sizes, and can be made up as a canvas print, a framed print or the very modern and beautiful acrylic.